Well designed digital
spaces for work and play
Learn more ︎︎︎
Events
Workshops
Offices
Stories

—

Digital spaces offer tremendous potential in helping us make sense of the world, connect people across divides, and enable collective action.
we are afd


As spatial designers, we look at digital life through the lens of physical space
—

Architecture for Dialogue is a research and design practice built to engage with environments through spatial design and innovation.

Selected as one of the top 20 emerging design practices in India in 2021, we specialize in creating transformative spaces that inspire thought and instigate conversations. Our experience with working in physical spaces informs our work in the digital domain.

We are based in Delhi.

WHAT WE DO
We support our partners all the way from conceptualising a digital space as per their unique needs to visual design and production to ultimately host experiences on a browser-based link.

Using 8-bit-esque video game aesthetics, Gather.town is a multi-user gathering platform hosted on the web browser. The interface beautifully blends digital interactions with the physicality of real-world spaces — capable of producing hyper-versatile outcomes.
AfD is a registered service partner for the platform.
case studIES ︎︎︎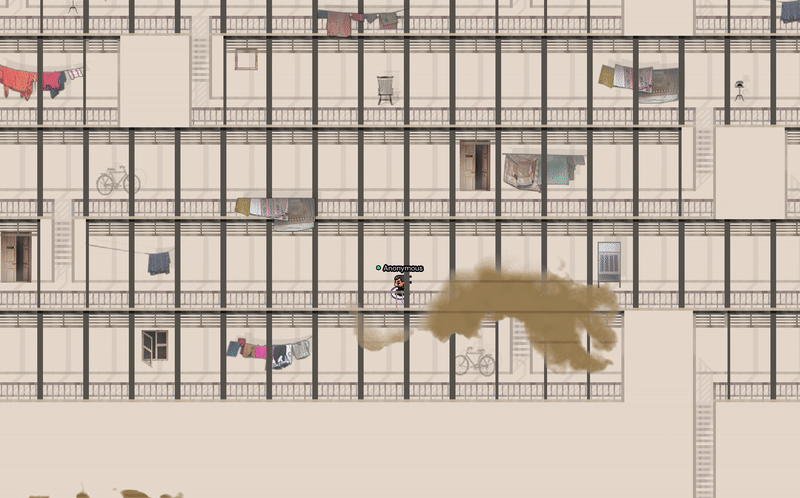 How can digital places tell immersive stories? — The Reanimated Corpse Project

AfD worked with Lightcube film society to realise a 2D Puzzle Platformer game around Indian cinema. AfD created the universe of the game — from visual concepts to gameplay and player interactions. [Project part of Goethe Insitut's FMI Initiative]
How might we make work-from-home more humane? — Project Huddle
Huddle is inspired by spontaneous discussions and sense of gathering and connectedness that we otherwise experience in company of one another. We put together a single player mock up testing the concepts of sound of proximity on a 2D canvas interface.
PARTNER WITH US
Let's work together!
We welcome challenging briefs with no straight answers. We find ourselves having the most fun in open explorations co-driven by process and serendipity.
Do tell us a little bit about yourself and your project and we will get back to you as soon as we can.
Alternatively, you can write an email to team@afd.city.

︎ tell us!