Focus Area ︎︎︎ Shared Streets


New Delhi Cycles for Change
What makes a city cycle-friendly? As cycle-ridership peaked during the pandemic, AfD worked with New Delhi Municipal Council to design and rollout cycle infrastructure in Delhi through a week-long pilot.

The project employed tactical street design interventions and public art to gather participation and test cycle infrastructure typologies in the city. Our team supported NDMC through the Cycles4Change project.

Part of the India Cycles4Change challenge undertaken by the Indian Smart Cities Mission. Project partners — St+art India Foundation and SmartBike Mobility.


Client
NDMC SCL
Timeline
August 2020 — January 2021
Location
New Delhi
---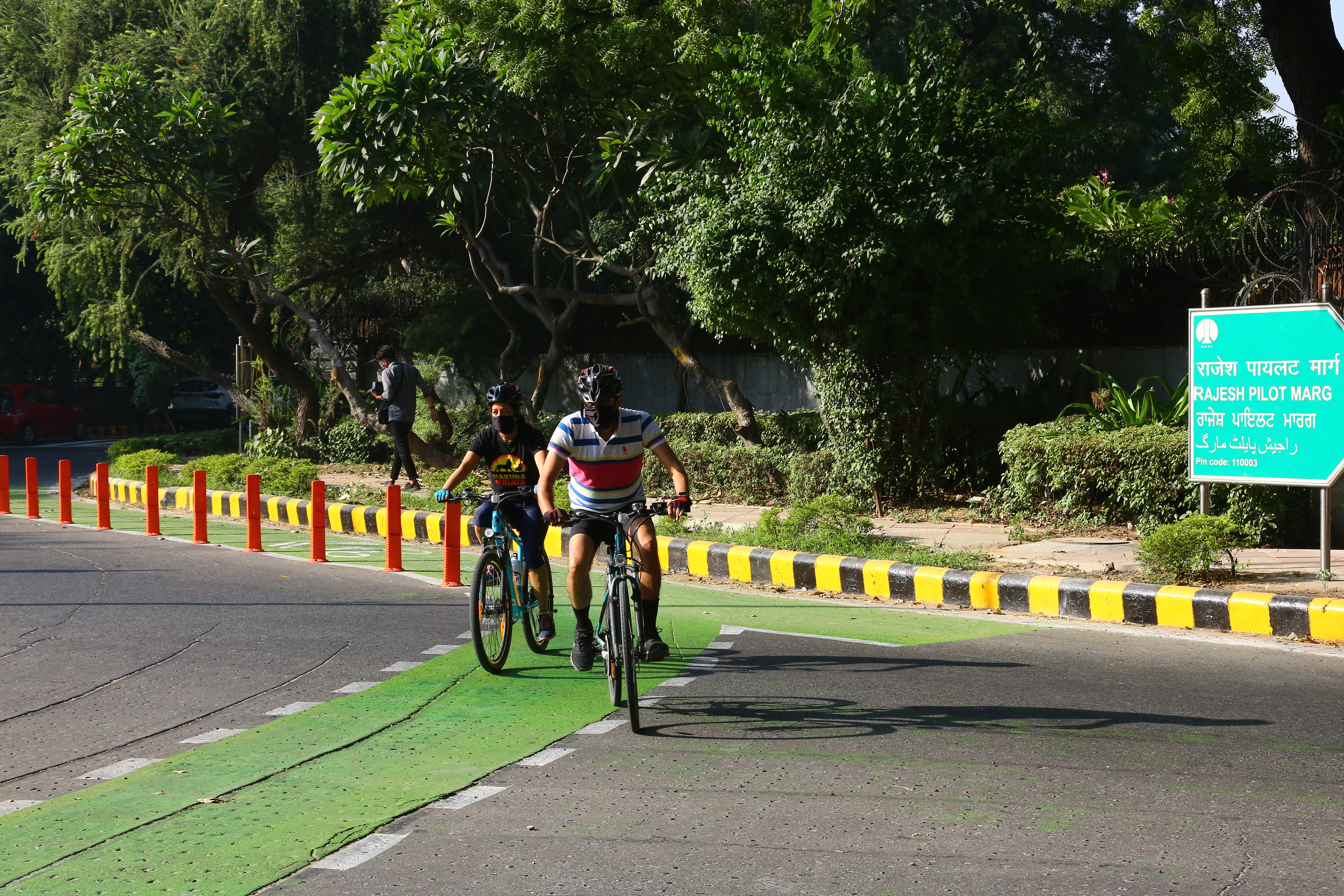 ---
Context
During the COVID-19 lockdown, cities across the world witnessed a spike in the usage of cycles during the pandemic. We were curious if there were plans in place to make Delhi cycle-ready and pitched a tactical urbanism project to the New Delhi Municipal Council.

The proposal got through and we found ourselves working with one of the most significant municipal bodies in the country. Fun!


Challenge
What is the cycle infrastructure that works for Indian cities?

Urban road infrastructure in New Delhi has largely been biased in the favour of motorised vehicles. To transition towards a cycle-riding culture in the city, the challenge is to not only get people on their cycles, but more importantly, get them out of their cars ︎︎︎ creating delightful experiences for cyclists is essential.




---
Pilot Corridor

Integrating important landmarks and existing cycle facilities

We identified important landmarks in the city, public grounds with high activity and footfall. A 6-km pilot route was selected, connecting India gate to the Lodhi Art District. The route integrated existing PBS station facilities in the city and included streets both narrow and wide —
allowing us to test a diversity of interventions.
The route is frequented by cyclists in the city preferring tree-lined avenues and low traffic volume.
The Lodhi Colony is an open-air public art gallery featuring more than 50 murals – growing to become a landmark hub for art and culture. With a proactive residential community, the Lodhi Art District could serve as the perfect test-bed for neighbourhood-level cycle-friendly infrastructure.
Intervention
Tactical street interventions to introduce cycle infrastructure


Very few examples of cycle-infrastructure exist in Indian cities (circa 2020). This meant relying on guidelines as set by NDMC's NMT policy and Indian Roads Congress. Global examples and guidelines like Urban Bikeway Design Guide by GDCI were drawn from.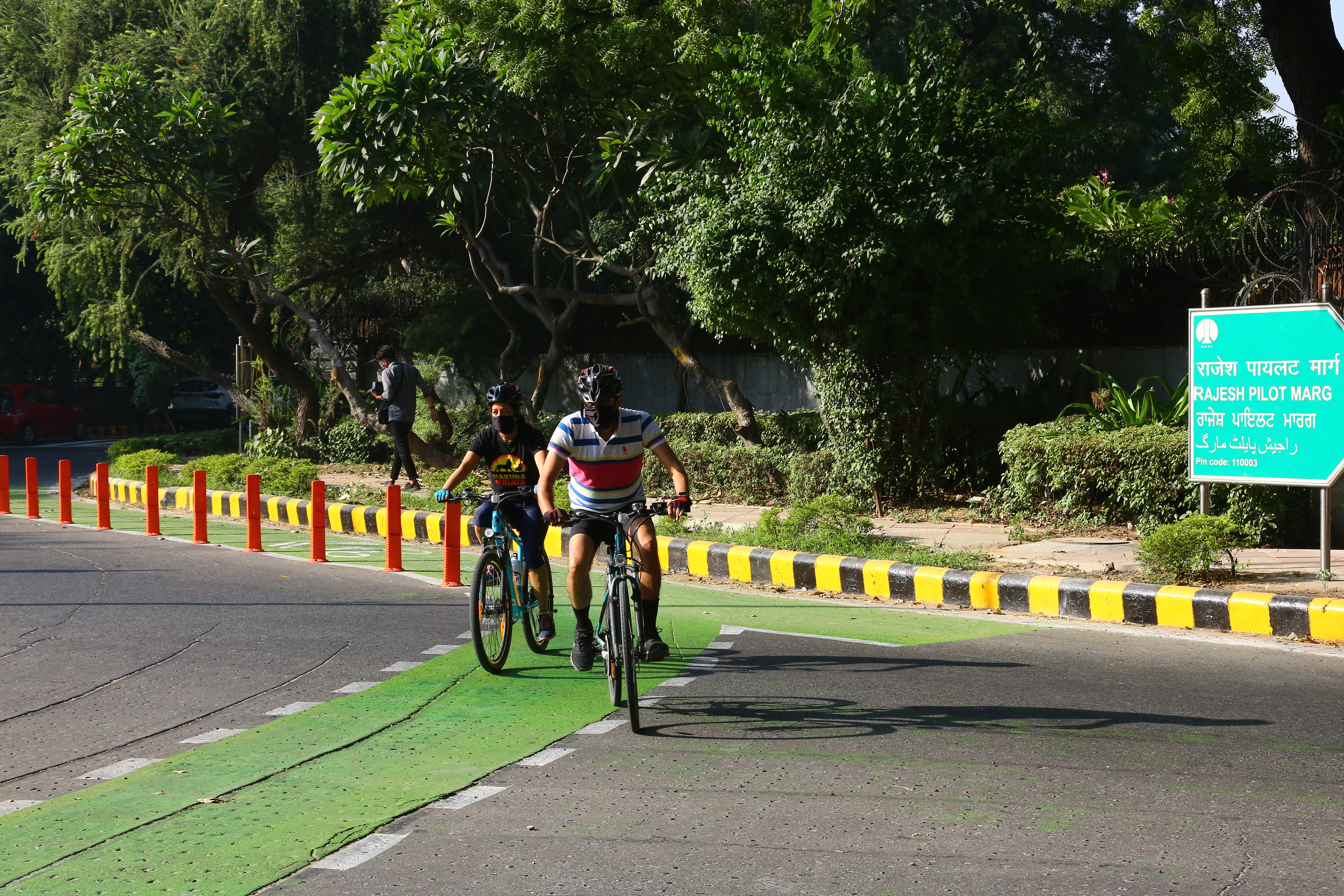 ---
Intervention
Public art to create recreational spaces for cyclists


A part of Lodi colony road was converted into a 'Pop-up Cycle Plaza'. The vehicular thoroughfare was restricted, as cyclists and pedestrians came forward to reclaim the street. Painter Shabbu worked with student volunteers and the St+art team to activate the 500-metre stretch of cycle track through Lodhi Gardens.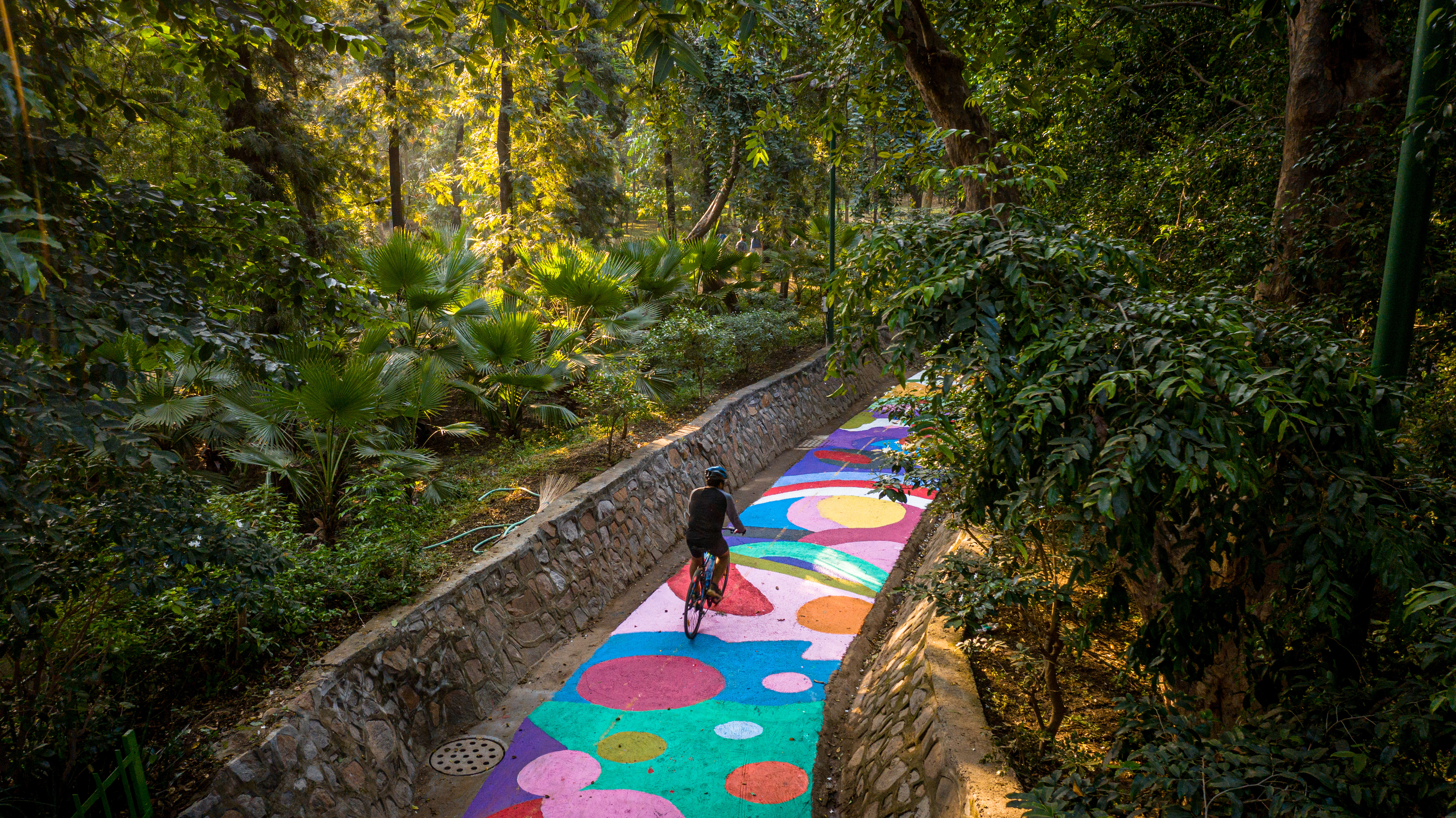 ---
Launch
A week-long event pilot

We launched the interventions as a pilot to run for 9 days from October 2nd to 10th — inviting cyclists in the city to participate and give feedback which would eventually be incorporated in further phases of the project by NDMC.
Inviting critical feedback

Cyclists were asked pointed questions on their perception of the track, pain points and what they think worked. As an endpoint to the corridor, the cycle plaza served as a space to host activities and discussions with residents across all ages and cyclist groups.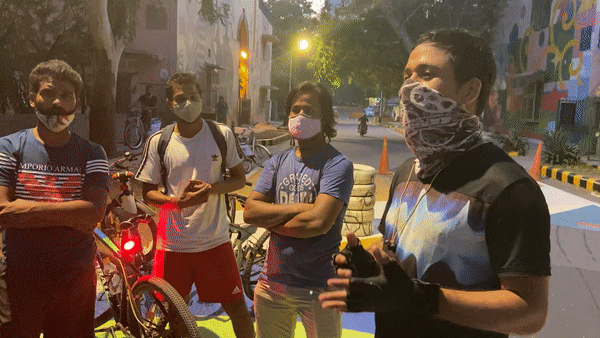 ---