How might remote medical facilities respond to the climate crisis?

"Gram Clinic 2035," is an immersive installation concept that transports visitors to an envisioned healthcare ecosystem in remote villages in India. The installation showcases collective efforts in the healthcare, energy and climate sector to improve maternal and child-related healthcare.

AfD was invited to conceptualise an exhibit that showcases SELCO Foundation's vision for COP28 and gather interest from key stakeholders to create a sustained impact. The project explores design fiction as a medium to envision hopeful futures for maternal healthcare in remote communities powered by access to clean, decentralised energy.

Category
Immersive Installations
Domain
Healthcare
Team
Depanshu Gola
Aniruddh Sharan
Supported by
SELCO Foundation
Timeline
4 weeks
Status
Unrealised
---
---
Brief
Clean energy ︎ healthcare
As the impacts of climate change become increasingly exacerbated, healthcare ecosystems experience a severe strain, particularly in growing economies with adverse implications for the poor. SELCO Foundation pioneers sustainable energy-driven solutions that are inclusive of clean energy systems, energy-efficient equipment and green-built environments for public health centres. Following a build-operate-transfer methodology for ecosystem development, the foundation augments grassroots efforts in healthcare delivery and improved livelihoods.
---
---
Design Concept
World within a world
The exhibition uses design fiction and worldbuilding to present nuanced futures of care systems in remote Indian contexts. Provocations and nudges scattered in the space prompting audiences to actively engage with the exhibits.

The proposed design oscillates around an inward-looking courtyard - which doubles up as space for collective dialogue, while the exhibit is designed as a hypothetical clinic with each room showcasing a different aspect. Interconnected rooms create a sequenced experience and a controlled narrative through which visitors experience the 'journey of visiting an actual health clinic'.

---
Details


Micro-exhibits

The installation consists of multiple micro-exhibits in the form of artefacts from the future, sensorial cues, and spatial elements that respond to the climatic context of the future.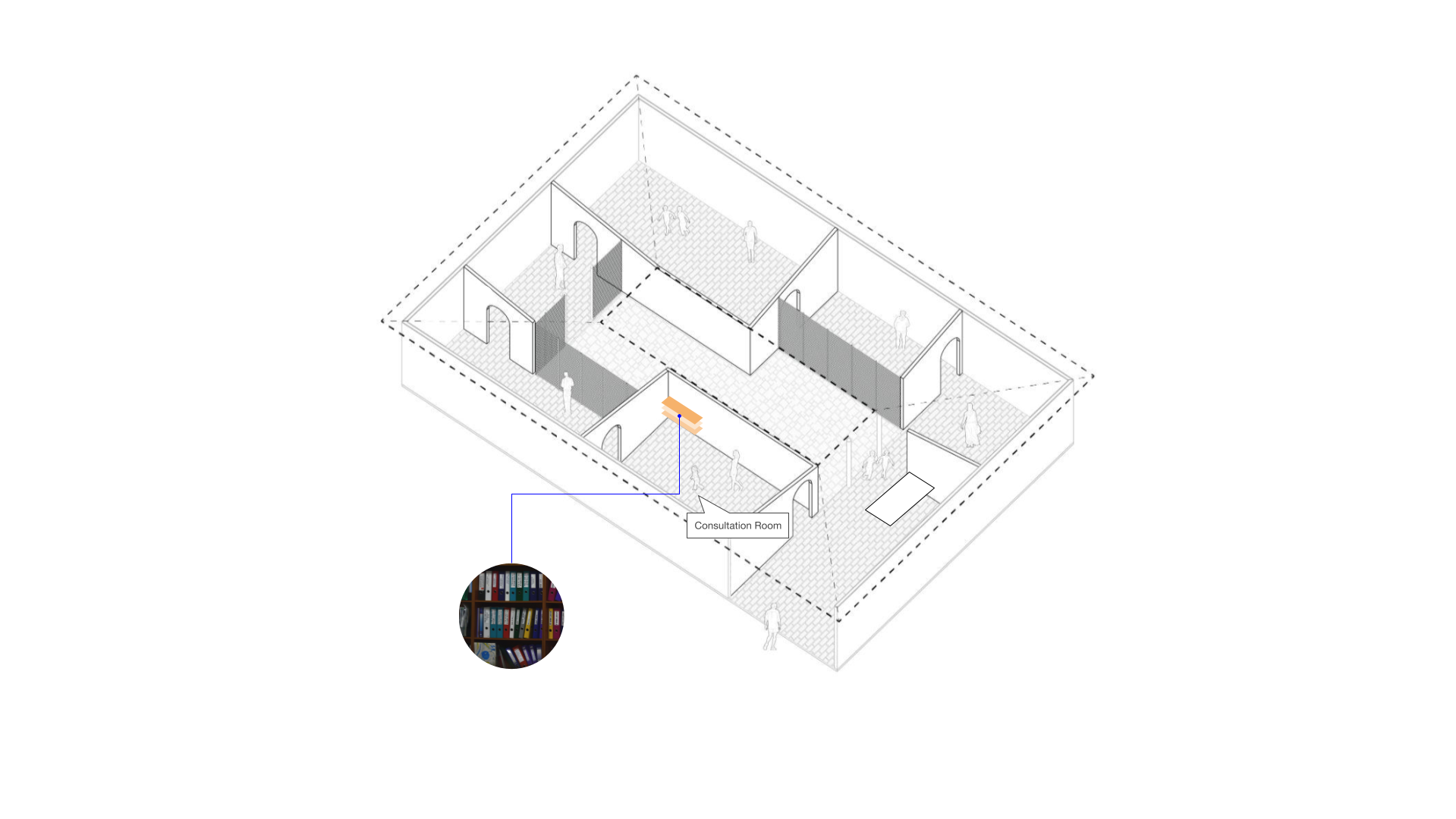 ---
End note

The exercise offered the opportunity to propel our ongoing inquiry to cultivate public engagement and discourse through mediums of imagination and demonstration.

In the spectrum of plausible and possible events that the future has in store for us, design fiction and speculative visioning open doors to scenarios that may seem unlikely at first. As effective tools to challenge assumptions, design fiction helps stem imagination and faith in new streams of thought and approaches.
---
Related work ︎︎︎