AfD Magazine Vol — I
Exploring


Habitat Futures
Cultivating a discourse through imagination and demonstration
Est. reading time — 5 minutes ︎
---
Context

Urban development is a balancing act between formal and informal, planned and unplanned, and forces with conflicting needs and interests. The spatial structure of a city reflects the distribution of power, access to resources and inequalities that exist in these spheres. As the impact of climate change becomes increasingly evident, we need to rethink our notions of habitat and what constitutes development. It is critical that we notice who is and isn't included in the decision-making that shapes the city.

How might habitat development be a shared conversation that is transparent and accessible for all? In this article, we plan to draw from some of our projects based in Delhi, to highlight the role of future thinking, provocations and prototypes in initiating alternate futures for the city.
---
Why futures?
In the spectrum of plausible and possible events that the future has in store for us,
divergent thinking

opens doors to scenarios that may seem unlikely at first.


This is especially relevant in pursuing alternate visions for rigid urban systems that haven't changed in a long time. Food systems are one such example. As food demand grows in cities, climate change and resultant unpredictable weather conditions endanger crop growth — testing agricultural systems for their viability and resilience.

As a city experiencing rapid urbanisation and soon to be the most populous in the world, Delhi offers a particularly relevant environment to study the future of food supply and agriculture. Our project 'Delhi Agro-city' imagines an alternate future where farmers and consumers coexist in cities. Urban agriculture invites farmers to move to the city, prioritising local food production and giving urban dwellers opportunities to deepen their engagement with food systems.

Freelancing farmers find their place in the city, working directly with consumer groups to cultivate in parks, backyards and rooftops in return for salaries. Seeking better nutrition, consumers help out with land, resources and effort — sharing responsibilities and setbacks in case of poor harvest and crop failures. Peer-to-peer barter exchanges become common, with automated blockchain platforms facilitating easy transactions. The result — farmers continue pursuing agriculture as a source of livelihood while accessing urban amenities like healthcare, education, and information technology. The project puts forth this vision by way of speculative visuals.
Physical spaces in the city adapt to accommodate urban farming. Collaborative agriculture brings groups from different backgrounds and economic classes together and functions as the motor behind social change.
Vegetable and fruit depots step in to act as interfaces between consumers and producers. The Urban Agriculture Institute serves as a place where different actors come together and form a shared ecosystem.
---
Provoking thought
How might we translate these visions into tangible discourses in the public domain? Installations and exhibitions offer an interface to share research findings and demonstrative visions with citizen groups.
---
Artistic mediums offer an entry point to diverge from present-day realities and immerse in alternate realities that
provoke thought

and conversation.
---
The project 'My house is ill!' was an immersive installation inviting visitors to a home adapting to persistent air pollution in Delhi. Little is known about how pollution alters the safety of the spaces we inhabit every day. Households opt for air purifiers, staying indoors and cultivating gardens within homes, struggling to keep pollution at bay. Given this context, the installation hosted at KHOJ raised essential questions at the intersection of architecture, ecology and behaviour to study air pollution within homes and present patterns that are otherwise unseen.
My house is ill! formed a part of the program 'Does The Blue Sky Lie?: Testimonies of Air's Toxicities Exhibition' which is a 3-year project at Khoj Studios partially funded by The Prince Claus Fund. Developed in collaboration with Salil Parekh.
If your house could talk, what would it say? A network of particle sensors shares the health status of different spaces and offers real-time notifications and recommendations. Photo credits: Pranav Gohil for AfD
When outdoor air is unhealthy all year round, virtual windows become the norm. Pay-per-view projections offer exquisite views without the risk of bad air. Photo credits: Pranav Gohil for AfD
---
The imagination of a domestic living experience so visibly altered by poor air proved to be an effective provocation. Visitors engaged with the installation and reflected on the air in their own homes. Myths were busted, learnings shared and questions followed. The installation helped channel the stimulation to facilitate a discourse around public perceptions of air and what constitutes safety within indoor environments.

---
Power of prototypes ︎︎︎


Prototypes are cost-efficient tools to challenge assumptions and test hypotheses — helping stem imagination and faith in new streams of thought and approaches.


In a way, 'My house is ill' was intended as a prototype of a future home adapting to poor air. Another example of prototyping can be found in recent small-scale tactical urbanism projects in Indian cities to introduce cycle-friendly infrastructure. Until recently, cycle infrastructure had little precedent in India, with local efforts having to rely on examples and models from European counterparts. As cycle ridership peaked during the COVID-19 pandemic, many cities took on the opportunity to acknowledge cyclists and expand the infrastructure dedicated to them.

Working with New Delhi Municipal Council, our team helped the city test temporary street interventions to improve safety and experience for cyclists. The project was intended as a test of cycle infrastructure typologies that would work for Delhi. More importantly, the project built confidence in city authorities and citizens to perceive cycle infrastructure as an achievable near-term goal — an important step in transitioning towards sustainable mobility futures.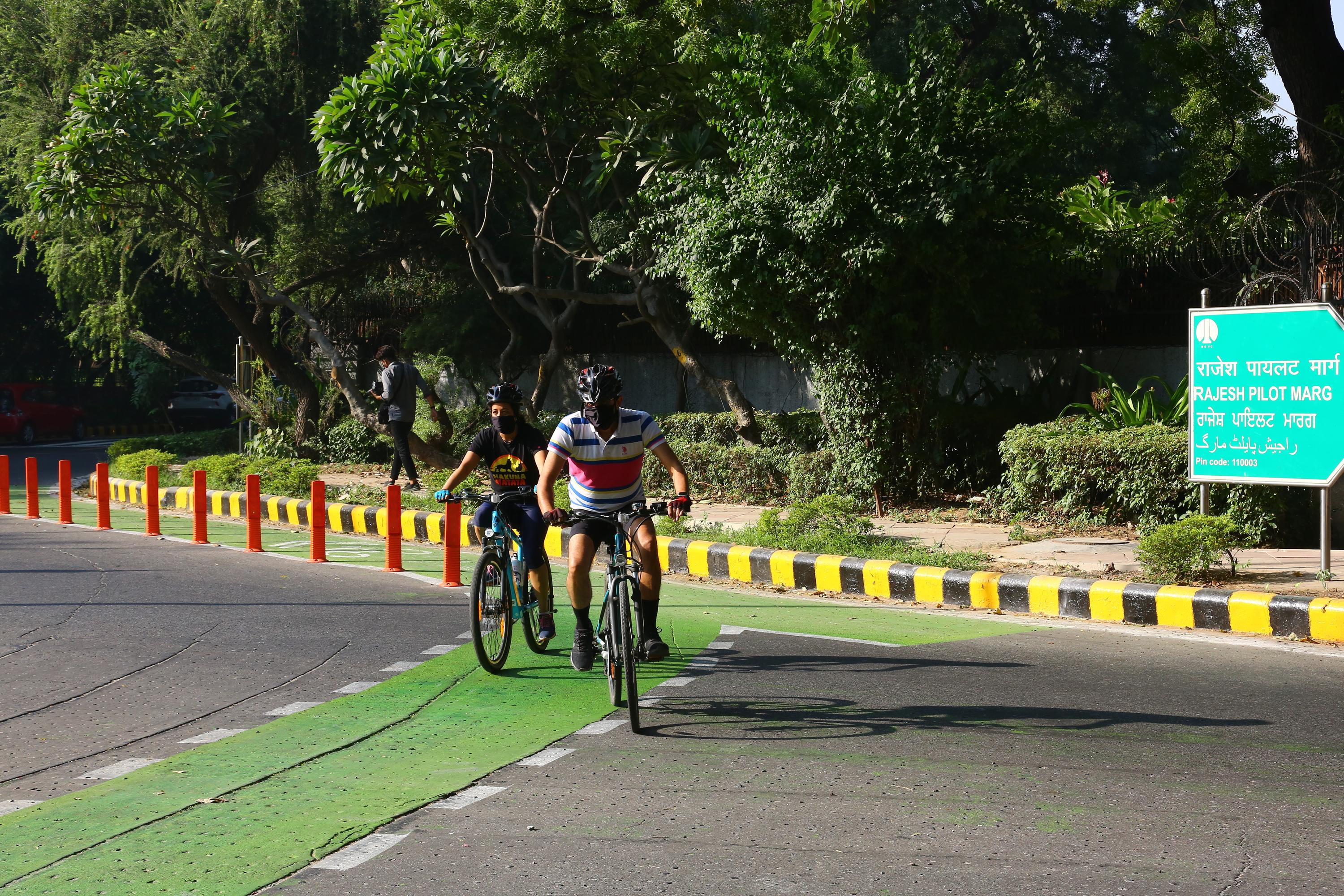 Through the week-long pilot, citizens were encouraged to participate and share critical feedback. Cyclists were invited to share their visions of a cycle-friendly city and highlight things that stand in the way. Photo by New Delhi Municipal Council
Public art components in the project created delightful experiences — accelerating participation and enthusiasm by citizen groups. Artwork by Khatra. Photo by Vibhor Yadav for St+art India Foundation
---
End notes.


The traditional role of a designer, architect or city maker is undergoing a transition. As architects struggle to ascertain their role and responsibility in climate action and social change (ourselves included), there's value in acknowledging that there is much to learn from the people we design for, their contexts and from adjacent disciplines.

How our immediate environments could, would or should evolve — is a subject that is best addressed collectively. Participation of underrepresented user groups and stakeholders is steadily being acknowledged as an important piece of the puzzle. To drive this participation and to deviate from a linear process of urban development; demonstrations, prototypes and pilot projects emerge as powerful tools. Imagination is key. ︎
---
This article was originally published in SIGMA — South Asian Journal for Storytelling, Imagination, Games, Multimedia and Arts. Authored by Abhimanyu Singhal.

Keep reading ︎︎︎