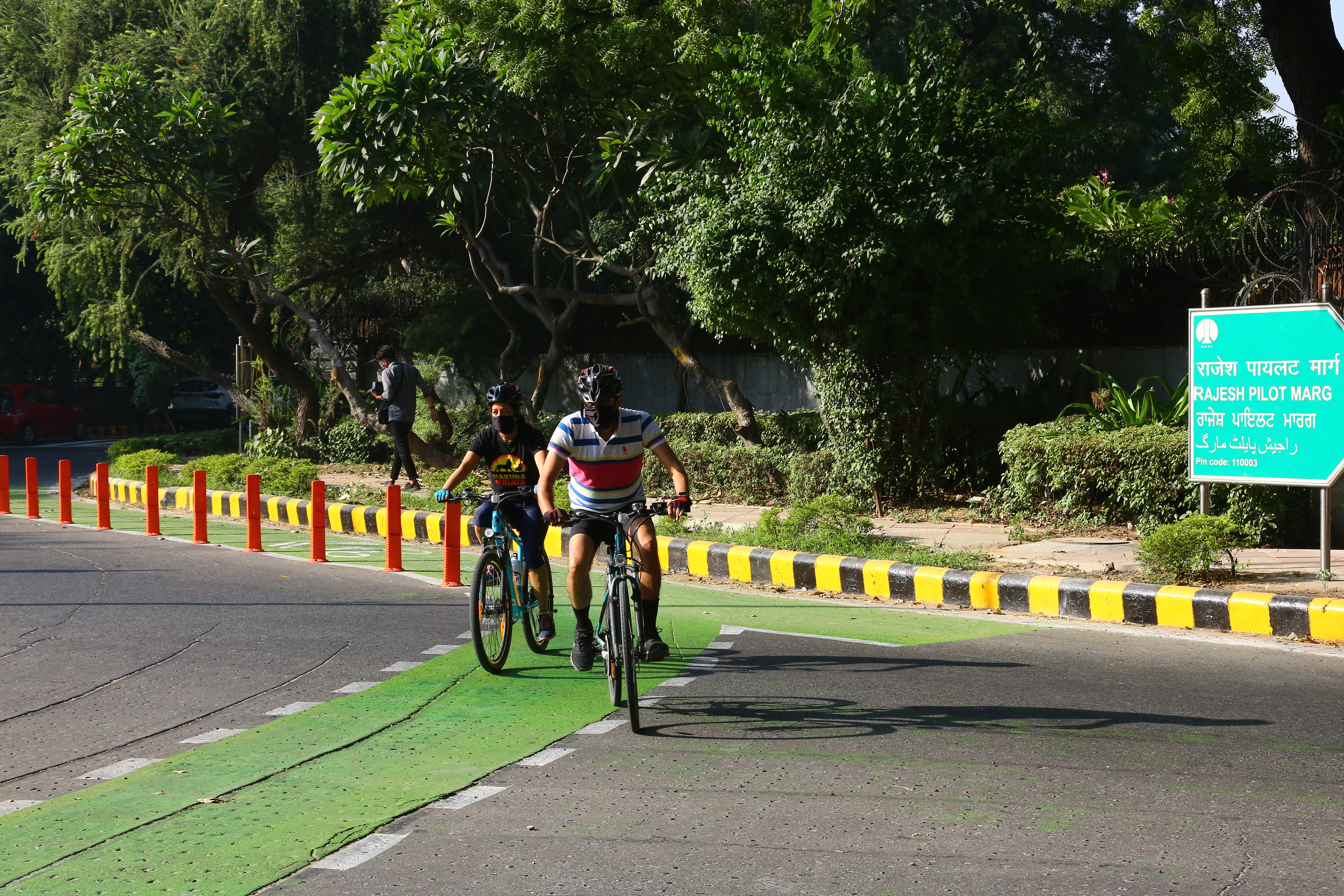 HOW MIGHT DELHI BE CYCLE-READY BY 2030?
CLIENT
NDMC SCL
STATUS
COMPLETED
TIMELINE
AUGUST 2020 — JANUARY 2021
LOCATION
New Delhi
In the middle of 2020 lockdown, we pitched a project to the New Delhi Municipal Council. With cities across the world witnessing a spike in the usage of ︎ during the pandemic, we were curious if there were plans in place to make Delhi ︎-ready.

The proposal got through and we found ourselves working with one of the most significant municipal bodies in the country and as we would eventually realise — a balancing act between diverse expectations.

Over three months, Architecture for Dialogue worked with NDMC to design and rollout ︎ infrastructure in Delhi through a week-long pilot. To gather feedback and learnings, we hosted interactions and participatory exercises with cyclists, motorists and residents.

Project undertaken with art partners — St+art India Foundation and PBS partners — SmartBike Mobility.


Context
Urban road infrastructure has largely been biased in the favour of motorised vehicles. This presents a prevalent stigma around viability of cycling as a mainstream mode of transport — deemed unsafe and inconvenient by those who can afford other options. Those who can't, work their ways around these difficulties, maintaining cycles which are sometimes 30 years old!
Two decades ago, a third of commuting in 80 Indian cities was done on bicycles, but by 2007 this had fallen to 12% (

source

).

Like a ray of hope in sustainable transport, COVID-19 pandemic brought upon a sudden spike in cycling all around the world. As ridership increases, cities around the world are leveraging the opportunity to embrace cycling as an integral part of urban transport systems.
Recent months have seen many cities set up quick cycle-friendly infrastructure. In India, these efforts have been organised under the India Cycles4Change challenge, an initiative of the Smart Cities Mission — to encourage Indian cities to initiate a cycling revolution.
What makes a city cycle friendly?
Mapping potential interventions on A SAFETY-CONVENIENCE-EXPERIENCE framework
To transition towards a cycle-riding culture in Delhi, the challenge is to not only get people on their cycles, but more importantly, get them out of their cars (epiphany borrowed from the fantastic commentary —
Why isn't cycling normal in London
). Thus, besides safety and convenience — creating delightful experiences for cyclists becomes essential.
We mapped possible strategies and interventions to a three-point framework giving equal importance to
safety, convenience and experience
— to support existing cycle ridership as well as incentivise further adoption.
Creating cycle-friendly neighbourhoods

We were curious to explore the role of cycle-friendly neighbourhood environments — areas which would allow hyperlocal pedalled commutes, last mile transit and opportunities for recreation and fitness for all.
We began identifying large public spaces with active footfalls and public presence. Together with NDMC, we decided upon a short pilot stretch connecting India gate to Lodhi Gardens and further to the Lodhi Art District. The route integrated existing PBS station facilities in the city and included streets both narrow and wide —
allowing us to test a diversity of interventions.
SITE PHOTOS — before interventions
For testing neighbourhood level interventions, we wanted to work in a familiar context — the Lodhi Art District.
One of the last government housings built during the British Era, the Lodhi colony is surrounded by market areas, numerous institutions and schools, public parks and sports stadiums. In recent years, the area has become an open-air public art gallery – growing to become a landmark hub for art and culture.
The precinct is frequented by cycle groups to participate in hosted art tours as bike-sharing stations around the area encourage tourists to opt for cycles. With a proactive residential community, the Lodhi Art District could serve as the perfect test-bed.
ARTWORK PHOTOS COURTESY ST+ART
Since there were few case studies of successful cycle infrastructure in the extremely multi-modal context of India, we referred to global case examples and guidelines. Recent efforts to reclaim roads in Mumbai, Bengaluru and Coimbatore also served as reference points for the project.

We planned out sites for interventions along the route — comprising shared and dedicated lane pop-ups, junction designs and recreational spaces. We pulled through most of the design effort while budgetary approvals on the project were pending.

We used a collaborative Miro board for collating site photos and initial concepts to later convert into rendered illustrations to consult with the NDMC team.


Collaborative brainstorm sessions on Miro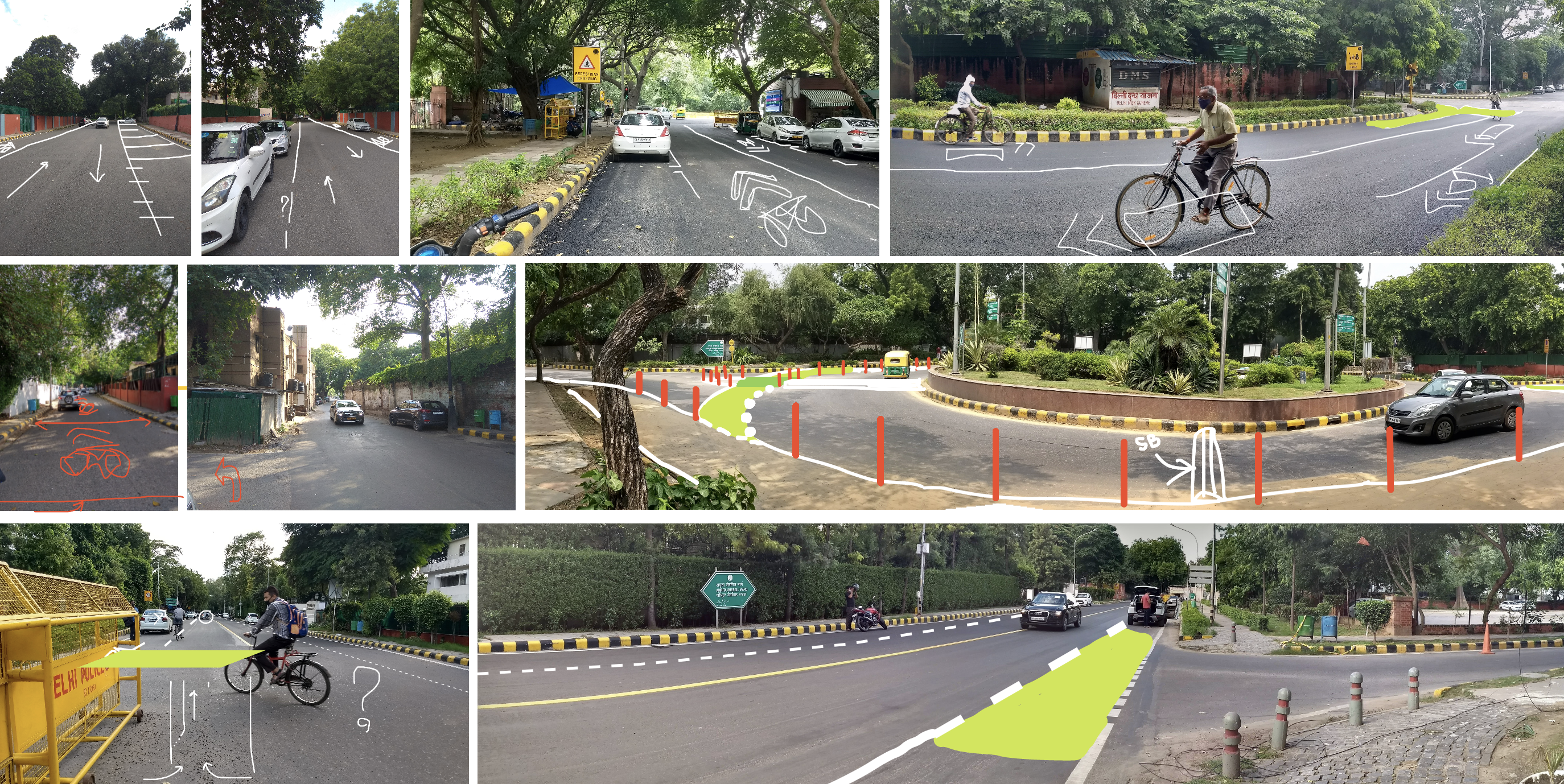 Concept drawings for stakeholder consultation
Technical drawings for site execution
Assisting work on ground with the road safety contractors and ndmc engineers
Jorbagh road x II Avenue intersection — Before, DESIGN and after
AMRITA SHERGILL MARG ROUNDABOUT — Before, DESIGN and after
Employing tactical urbanism & public art

Once the technical pieces were in place for the pilot, we shifted focus back on the experiential component. We collaborated with St+art India Foundation to plan art interventions along the route.
Painter Shabbu worked with student volunteers and the St+art team to activate the 500-metre stretch of cycle track through Lodhi Gardens.
Art interventions at Lodhi Gardens [Photos courtesy St+art India Foundation]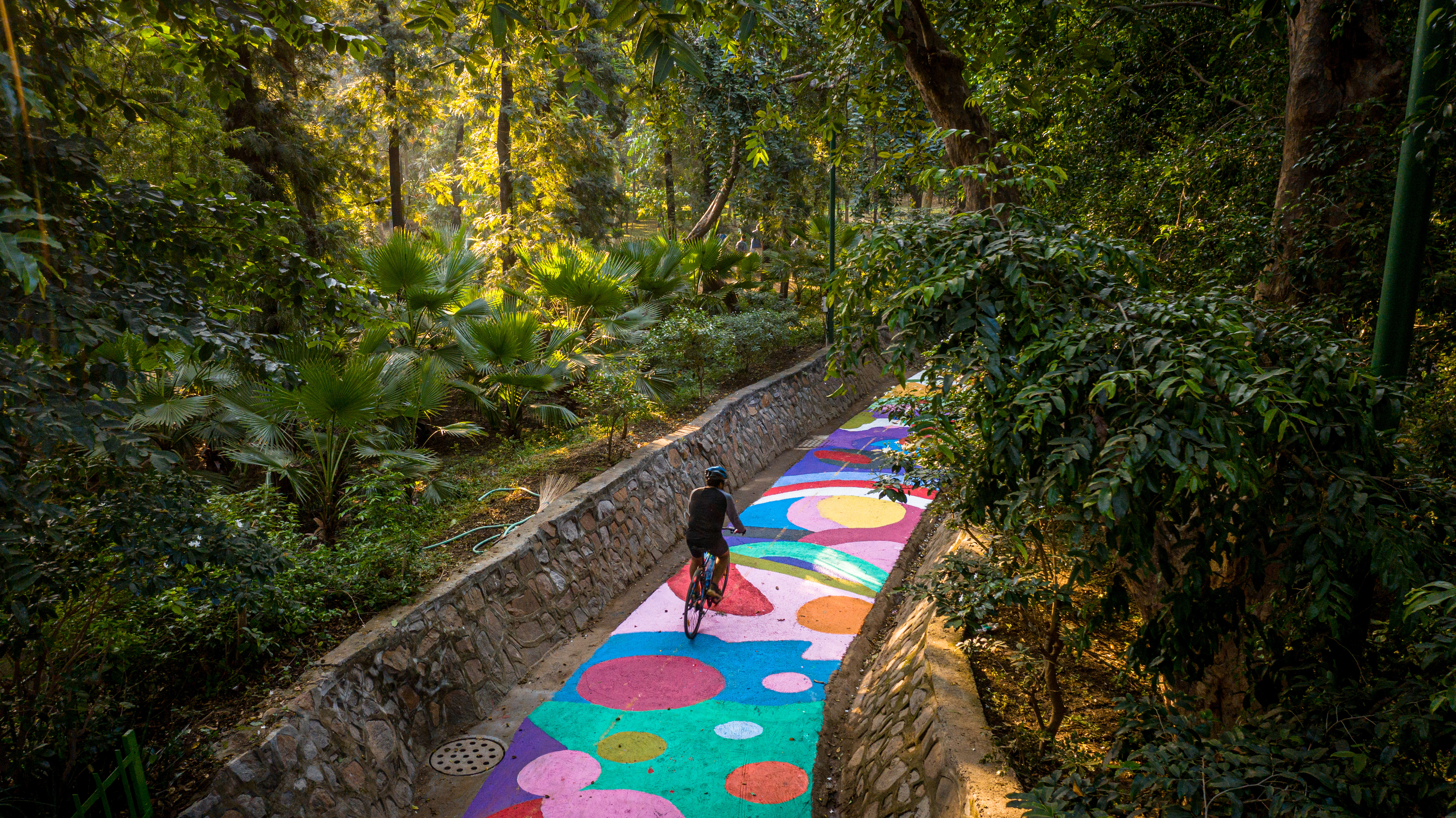 Pop-up Cycle Plaza
A part of Lodi colony road was converted into a 'Pop-up Cycle Plaza'. The vehicular thoroughfare was restricted, as cyclists and pedestrians came forward to reclaim the street.
Photos courtesy St+art India Foundation and NDmC
We launched the interventions as a pilot to run for 9 days from October 2nd to 10th — inviting cyclists in the city to participate and give feedback which would eventually be incorporated in further phases of the project by NDMC.
Guided tours

Tours were held from India Gate, Bikaner house and end at Jor Bagh metro station via cycle plaza Lodi Colony and Lodi Garden. Traffic marshalls were appointed to ensure safety and regulate motorised vehicles to new-found changes and traffic priorities.
Interactions along the track

At specific points, cyclists were asked pointed questions on their perception of the track, pain points and what they think worked.
Activities at the Cycle Plaza
As an endpoint to the corridor, the pop-up cycle plaza served as a space to host activities and discussions with residents across all ages and cyclist groups to gather learnings for further phases.
discussions ACROSS AGE GROUPS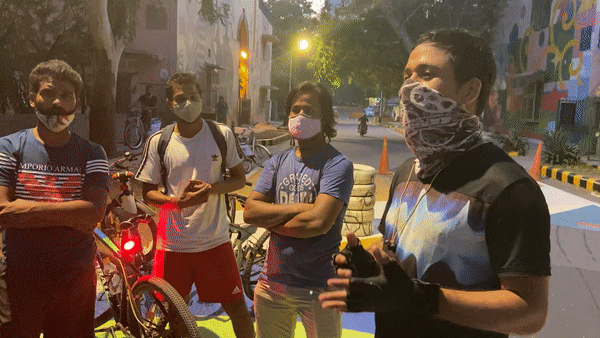 What's your commute
gathering participant experiences along the route
Learnings to insights
From our interactions and activities during the pilot, we went back to the drawing board (meaning Miro) to sense-make what we had heard from observations and conversations with cyclists, motorists, marshalls and kids in the past week.